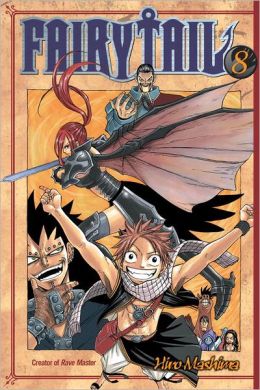 The Story
Fairy Tail is in dire straits as their guild is destroyed by Phantom Lord. Even though they've managed to defeat all the Element Four, Natsu and his friends are still faced by Gajeel and the master of Phantom Lord, Jose.
With all enemies, even the formidable Gajeel, taken out, Erza is the only one standing before Jose. That is, until Makarov's miraculous recovery.
The Review
The nice thing about this volume is that not only is it more or less the end of an arc so I can discuss the storyline as a whole, but it's also clearly divided into several different fights, which allows me to separate my review into digestible pieces. Say what you will about shonen action series, they can make for some pretty easy reviews. Unless of course one wants to actually sound intelligent during the discussion of said manga. Which is what I hope to do, so please, let me know in the comments how well I succeed in that aspect.